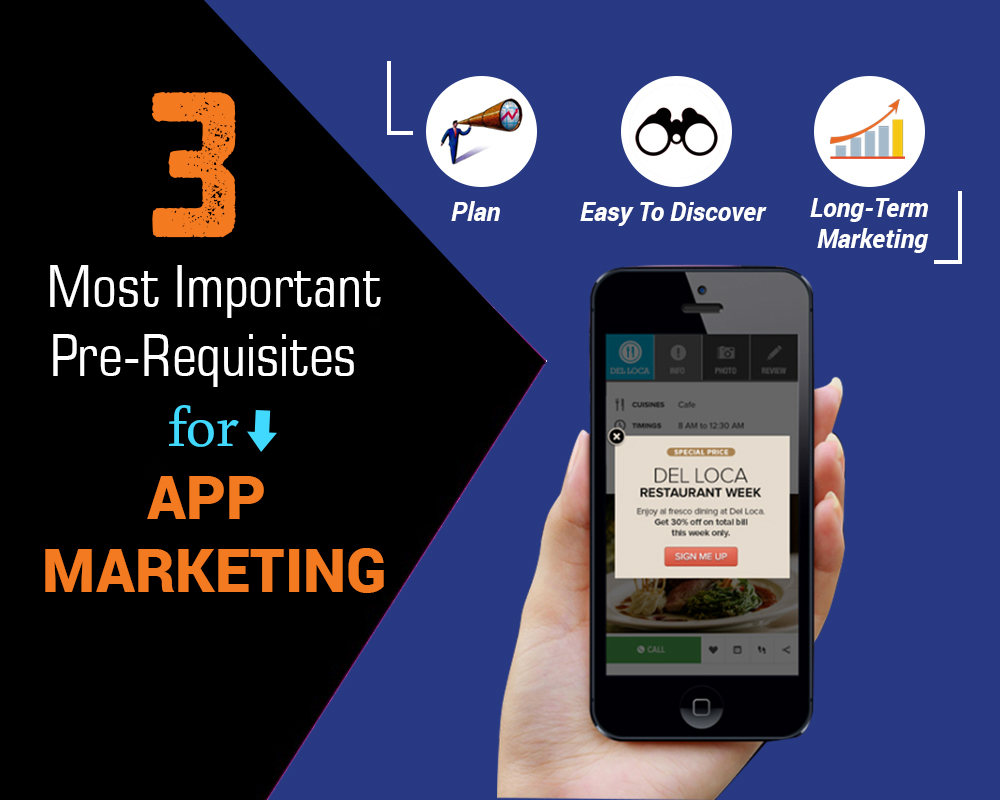 3 Most Important Pre-Requisites for App Marketing
We have got multiple reasons why even fantastic apps fails to deliver ROI, one major reason is poor marketing. Yes, in the extreme competitive era of mobile applications, you must be ready with an effective mobile app marketing strategy to enhance your mobile application development process.
Even if you think that your app is all set to create wonders without a good marketing strategy, courtesy to its usefulness, but you are going get a rude shock. Sorry to say, but, without a good marketing plan, your app is never going to succeed.
Follow the below mentioned pre-requisites of effective marketing strategy to increase the ROI of your app:
1. Plan in advance
Even before you actually start to build your app, you have to be ready with your marketing plan.\ This is necessary because you need to grasp the prospective of your current assets (web presence, social media profiles) to market your app. Once you realise that you are out of these assets, you need to start creating and using them. For example, the landing page of your website needs be used while promoting your app. Once you start building your app, you can spread information about its release to tap those customers who're in the habit of checking out your website's landing page.
You can also use your Twitter account to tweet the updates on the app development, so that the target users get to know it's on the way.
Similarly Press Releases can be very useful to reach prospective customers and tell them the latest update on the app development. The same marketing strategy will continue to grow even after the app launch.
If you feel that your existing web assets customised to suit your app's marketing activities, do it. If you feel that you need to mark your presence on a specific online platform, do it. If you think developing a specific marketing skill will help your app to succeed, learn it. As, this development will mould you into a better app marketer.
2. Make your app easy to discover
Optimize your app details for App Store and Google Play, this will play as a crucial component in your app marketing strategy. On the other hand, keeping it innovative yet easy to understand for user is also a big requirement that needs to be fulfilled.
Do not miss out on reaching influencers in the app industry. Identify the influencers who have created a niche in their industry, choose them on the basis of their social presence, number of followers, and then start building good terms with them.
This is another step that needs to be taken in advance. You got to interact with them and for good bond even before your app is launched in the market. This will help you create a certain level of trust, you can later ask them to mention your app on their blogs, social media pages, or even ask them to review your app.
3. Think about long-term marketing.
Don't think of mobile app marketing as a short-term process will come to an end as soon as the app releases. It is a never-ending process, if you wish that the app to delivers a long-term result that is sufficient to count on your success. Ideally, you ae required to divide your app marketing strategy into three stages comprising of Pre-Launch, Launch and Post-Launch.
Your campaign should get started way before app release and continue till your app lasts. You cannot take a day off when marketing is at its peak. You should work hard in order to keep it stand out from the crowd.
These three pre-requisites will help you all the success that you ever dreamt for your app, not only this, you will also attain the ROI graph that is launching its arrow towards greater heights.