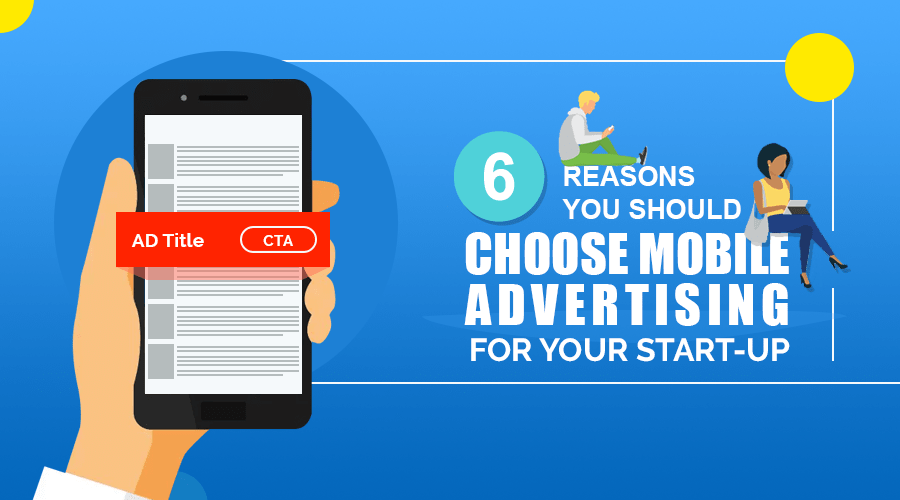 6 Reasons You Should choose Mobile Advertising for Your Start-Up
Gone are the days when people used simple mobile phones. Due to the great mobile revolution in last two decades, Indians have now switched to smartphones and the phones are meant for a lot more than just calling. The revolutionary change in the number of smartphone has opened the door of immense opportunity for mobile advertising. Every marketer is brainstorming and coming up with the most creative ideas possible to lure the target audiences. This has boosted the competitive spirits among the brands.
India is still undergoing through the "start-up" rooting scenario. Mobile Advertising is the major key to success. In this article, we will discuss the points that proves that Mobile Advertising is a must for Start-Ups.
Mobile is now the primary mode of digital advertising: With growing number of people switching from simple mobile phones to smartphones, and the rage of free internet created by the telecom industry, the increase in internet data usage is now obvious. This means, to reach more audience, marketers need to pull up their socks and target this new hemisphere.

Cost-effective and Conversion-Oriented Solution: Funds are always a concern in the start-up atmosphere, while the other advertising methods cost fortune, Mobile Advertising is cheaper and quite effective as well. The best part of mobile advertising is, it is affordable and it gives quick conversions.

Real-Time Advertising: With features like Geo-Targeting, Mobile marketing enables you to send real-time messages to the audience for which, conversions are more likely to take place. Geo Targeting helps in sending the advertisements in such a time and place where the customer is more likely to react to it.

Better Understanding of Customers: Mobile Phones let the marketer to connect with the audience personally in order to sell their product. It grows the understanding between the customer and the brand, where the brands try to study the customer's need and cater them accordingly.

Developing Your Own Mobile Application: These days, Mobile Applications have acquired the major interest of audiences. No points for guessing that it has become key of success for most of the start-ups. If you are also looking for a way out to endorse through mobile ads, the application serves as the best platform for ad postings.

Increasing Craze for Video Ads: Short, entertaining videos with clear messages always end up receiving endless love from the users. Also, they can be easily seen on mobile phones while user is on the go. Just make sure videos are not too long as the smartphone generation tends to lose interest in no time and it also consumes a lot of data.
There is no doubt on the fact that Mobile Advertising is very influential way of marketing in today's digital era. This medium brings you good outcomes and requires lesser budget than that of other mediums. However, you need to spend some time in understanding you audience behavior and market strategies. Otherwise, all your strategies will fall fatal.